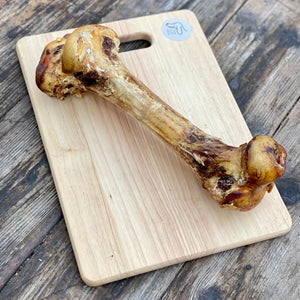 South Africain responsibly sourced "Dino" Ostrich Bones so called for there huge size!! They are ideal for a naturally healthy and totally irresistible treat!! Ostrich is naturally rich in nutrients and extremely low in fat making them the perfect choice.No additives or preservatives, 100% pure Ostrich meat. 
Long Lasting Chew responsibly sourced 100% natural. 
Easy to digest, naturally low in fat & high in protein,
hypoallergenic. Natural Dental Chew.
Grain & Gluten free.
  (no treats are ever lasting sadly & we always recommend that you supervise your four legged pal & have fresh water available while they are enjoying!)