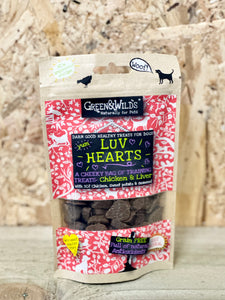 Luv hearts chicken & liver bakes from those healthy guys at Green & Wilds.
 Baked in the UK these tasty chicken & liver snacks are full of natural antioxidants & can reduce fatigue. Rick in liver that contains vitamins & iron to aid digestion. Free from soya, dairy or artificial colours and flavours.  
great to use as a training treat or a little snack. 
 100gram (resealable packaging)
(we always recommend that you supervise your four legged pal & have fresh water available while they are enjoying!)