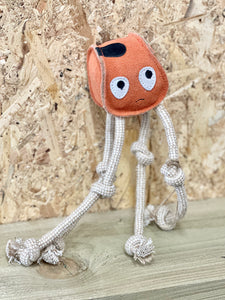 Sid the spider is a durable eco chew toy, he's robust & fun to give you hours of interactive play!!
With a tough brightly coloured  "ball body" and 4 knotted jute rope legs he'll keep your doggo family happy!!
Made from natural, renewable and recyclable materials you can have fun without the guilt!!
Constructed using sustainable jute, which is a natural fiber, the suede used is a by product and the toy and all materials used haven't been treated with any harmful chemicals making for a safe and friendly chew!!
This product is a play toy only. Pets should always be supervised when playing with toys. Remove if your dog tries to swallow a piece or chunks. No toy is indestructible.....sadly, but it's fun testing them!!