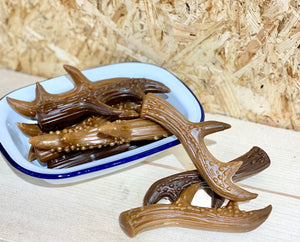 These pawsome treats are natural, tasty and fun!!
Made from sweet potato & chicken there a great way to help keep your four legged friends teeth clean & easy to digest!! 
Shaped in the form of stag antlers with grooved edges to help clean their teeth. They offer a tasty chew helping keep your four pawed pals teeth in tip top condition!! Gluten free & low fat whilst remaining delicious. 
*always supervise & keep water close