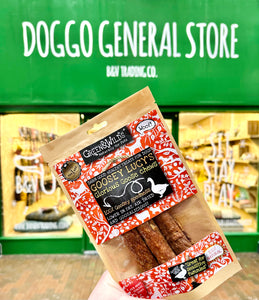 New in From our friends at Green & Wilds, take a gander at the NEW Goosey Lucy's Goose Chews!
100% Goosey goodness. Simply air dried, these chews are are totally goosalicious!
Lower in fat than other meat sources, goose is a nutrient dense protein, packed with minerals such as phosphorus for teeth and selenium for a healthy coat and immune system. It's also high in riboflavin and vitamin B-6 for quick energy release for active dogs, and ideal for dogs with sensitive tummies. 
available in a resealable 100g bag.