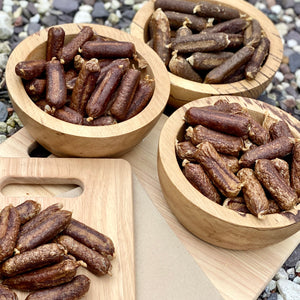 Another one of our all time favourites for a good "go-to" treat!! Our smaller sausages great to feed as a treat or chop up at home and use as a training aid. Made from  selection of high quality, high in meat sausages (70-80%) dried & cured with no chemicals or additives added.
The sausages are Venison, Beef, Chicken & turmeric & Liver and are suitable for all dogs over the age of 4 months.
Not recommend for dogs with food allergies or wheat intolerance. The sausages will last for 6-8 weeks if stored in a air tight container, not that there'd last that long in our house!! 
Choose from 1 of each, 2 of each or 3 of each.
(you can add a note on checkout if you'd prefer a different flavour mix)