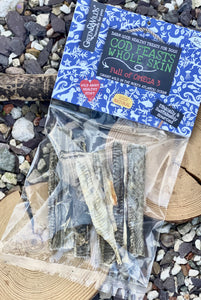 There's nothing fishy going on here.....we'll apart from 100% Natural Cod Skins caught wild in the North Atlantic Ocean. These Cod Skins are air dried to hold all that fishy goodness & made by the treat masters at Green & Wilds.  
Packed with proteins, oils and vitamins to build and maintain health and to keep teeth strong. Stimulates growth of bone structure and helps provide a beautiful shiny coat as they are rich in Omega 3 and 6.  Heart and blood vessels also benefit from the polyunsaturated fatty acids.
This is a complementary treat for your dog as part of a healthy balanced diet.  Suitable for dogs from 3 months.
All Green & Wilds fish are ethically and sustainably sourced.
MSC Certified
Low Fat!

Super high in Omega 3

Great for teeth – helps remove Tartar

Hypoallergenic & Gluten free

Easy on their digestion

Improves Skin & Coat condition

Eye & Brain development